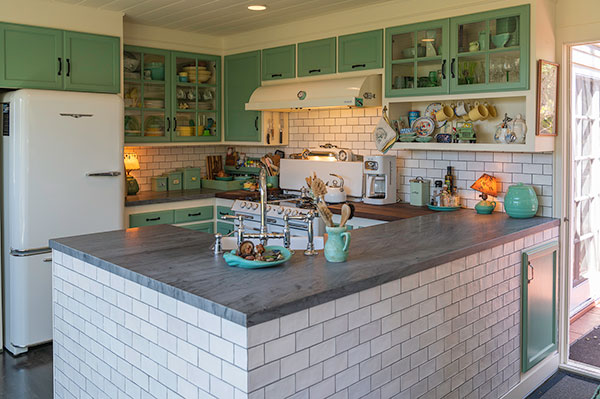 Backsplashes are the accessory to compliment the countertops. It's an accent, but still blends with the overall look. During a remodel, it is always the last decision made after the counters, floors, and cabinets are finished. On every job, I use the same tile installers who are craftsmen.
When selecting a backsplash, I go through the process with the homeowner to find out what their style is. Their style is based on the statement they want to make. I have the client start the process by picking pictures of what they like. There are many choices for backsplashes such as marble, travertine, limestone, porcelain, glass, ceramic, custom mosaic tile, and more.
This custom kitchen features a subway tile backsplash we installed in a vintage craftsman cottage in Laguna Beach. My client picked the subway from something he saw in a TV show. His goal was to get a very vintage tile that looked rustic and then have a darker grout for easy cleaning. Then we went ahead and put it on the face of the island. It provided a durable aspect to the kitchen function and was a great compliment to the backsplash. We also added a vintage farm sink and faucet that enhances this 1930s vintage craftsman home. The floor became another special feature. Instead of making the floor natural like the rest of the house, we decided to stain the floor a gray color to match the new countertops.
We provide a 5-Star service and a unique one-stop shop that customizes the finished product for each and every homeowner. If you are just getting started on your custom home remodel and don't know where to begin, I would love to share my 7 Simple Steps to a 5-Star experience with you.