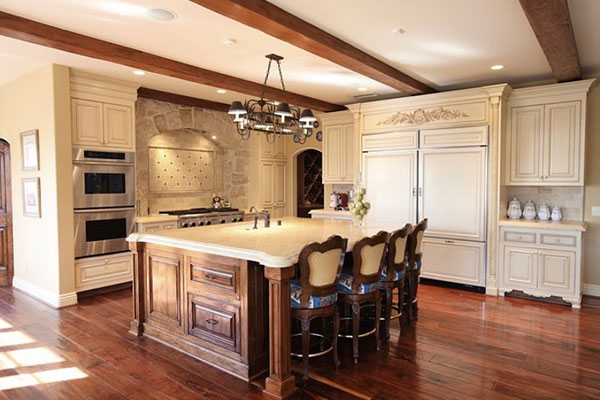 Beamed ceilings in custom kitchen renovations put a wonderful architectural detail that accents the ceiling and compliments the floor. The wood used on a beamed ceiling has to tie into the other woodworks in the home. Stained grade beams offer a vintage look.
This custom kitchen is located in a home in a private oceanfront community called Saint Malo in Carlsbad, California. The beams in the kitchen are a solid hand-hewn walnut to match the hand-scrapped solid walnut flooring. The lighting is recess can lighting in the ceiling on a dimmer switch. The beams are laid out in advance because they have backing that they are attached to, which is put in the ceiling between the framing before drywall is done. Walnut beams create the gorgeous French Country look.
Every single one of my kitchens are one hundred percent custom built. Since construction can be very stressful for most homeowners, I go out of my way to make the experience stress-free. My 7 Simple Steps to building a 5-star custom home completely outlines the process from conception to completion. All dream homes start with a good plan.
Please call me to discuss your dream home.