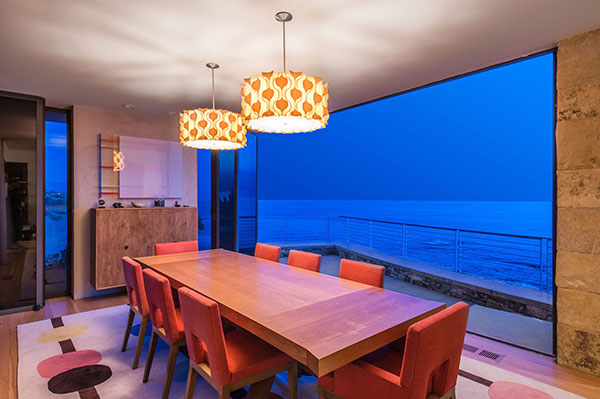 This home is right on the point of the bluff with views of the Montage Hotel, South Laguna, Mexico, and Catalina. These projects by the ocean require extra attention due to the weather conditions.
Camel Point is an exclusive community just south of Aliso Creek Beach in Laguna. This project is a remodel and restoration of an ocean view property with multi-levels and several decks and patios. Over time, all homes need loving care and lifetime maintenance. We are bringing the lifetime maintenance current for this home, which includes caulking, refinishing doors and counters, polishing hardware and plumbing fixtures, refinishing cabinets, and painting the entire home inside and out.
The homes in Laguna Beach, Newport Beach, Newport Coast, and on the Balboa Peninsula, all have diverse styles. This contemporary and organic style home has all the luxury elements you could ever want and the way it is laid out is a dream for entertaining. The dining room is completely open. There is nothing like having an outdoor dining experience with the ocean just steps away. The view and the sound of the waves crashing below is magical.
Can't wait to show you the finished product. It will be another 5-star job well done by Julie Laughton Design Build. All dream homes start with a good plan. Call me to discuss your new custom home.