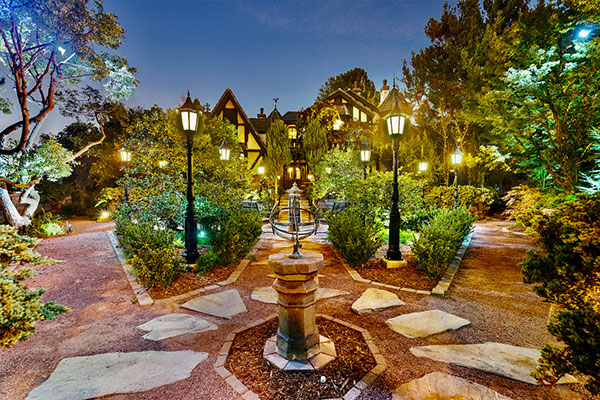 This project for Disney Imagineer Tony Baxter started as an addition to the second story of the rear of his fabulous English Tudor home. With my love of vintage and my ability to do very high-end quality craftsmanship and detailed work, Tony and I were a perfect match.  Not only could I draw what Tony wanted, I could build it to his exact specifications. My craftsmen meticulously matched the old with the new to look like the addition was always there.
Even though Tony loved and adored his backyard, he didn't think he used it enough. One evening while watching the Mary Poppins movie, he picked a theme for his backyard from one particular scene. The scene had dancers spinning around ten vintage lampposts on a moonlit night in front of this glorious fountain. Our job was to take the ten vintage lampposts that Tony found and place them in an almost identical layout as the scene from the movie.
We assembled a custom fountain with custom lighting and installed moonlight in the treetops. It was such an honor to transform Tony's backyard into a magical theme that he could enjoy on a daily and nightly basis. The whole dream started on paper and turned out amazing. Working with the client through this is the part of the process that I enjoy very much. Getting the client's dreams on paper at the start is the most important part.
Outdoor spaces can become living spaces if done correctly. It doesn't matter how big or small your yard is it's all about customizing it for your needs. Call me to discuss your dream yard. (714) 305-2861