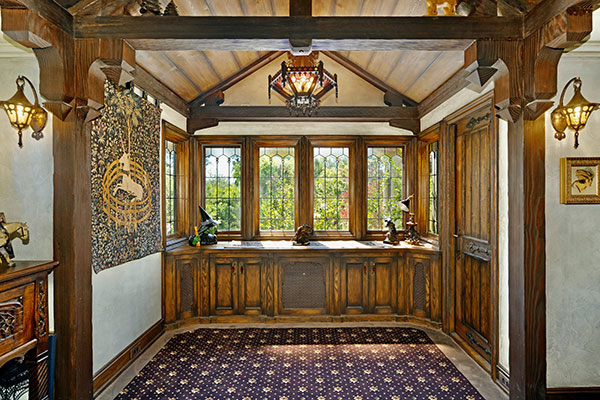 Watching movies at home not only gives you a chance to spend more time with friends and family, it also gives you the opportunity to enhance the value of your home by adding to it with a home theater. If a home theater is done correctly, it actually won't take up any extra space and will seamlessly fit into the custom room that you are transforming.
The second home theater that I designed and installed for Disney Imagineer Tony Baxter was built in his guest room. The upgrading we did in the guest room included a new vaulted wood ceiling and the screen built into custom cabinetry details. Along with my favorite wood carver from Ireland Gabriel McKeagney, we clad the ceiling with wood and built and installed hand hewn beams, which were then custom stained. This beam housed the movie screen that comes down at the click of a button. The end result was a masterpiece of transforming what was there and adding new vintage carving with the guidance of Tony's vision. It's now a timeless historical room that looks like it had always been that way.
In all my years of working in this business this custom home project exemplifies why I love what I do for a living. Everything was vintage and custom. The entire process working with Tony was not only an amazing experience and wonderful opportunity, but to be able to both experience implementing and executing the finished product was a dream come true.