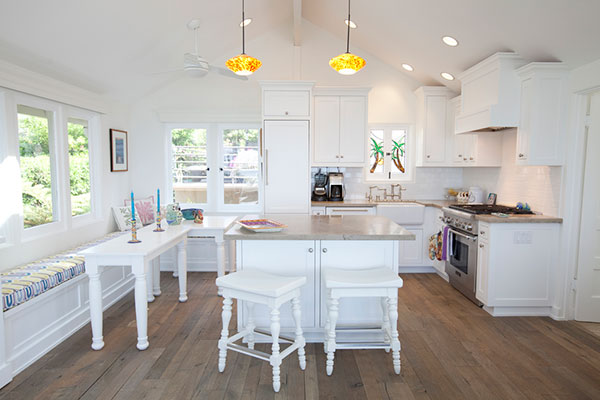 This home is over 100 years old and one of the oldest in Laguna Beach. It is in the history books known as the Red Barn on Mcaulay. The whole house is approximately 1100 square feet with the additions that were added on over time.
The residence is on the second story so there is a lot of natural light. It has windows on all sides. Nothing is blocking their views of the beach near the Montage Hotel. With these kinds of projects, it's really important to have space planning. My motto is…"It all starts with a good plan."
The cabinetry and built-in banquette seating in this kitchen is all customized to fit. The floor is a distressed oak. The ceiling was already vaulted. We did all recessed lighting. We had to fit everything the client wanted in this tiny space. We used a French refrigerator that is only 24 inches wide, a smaller range for cooking, and we put the microwave in the island to clear up more counter space. I picked a grey limestone for the countertops, which has a very organic feel.
I am probably one of the few contractors who takes on projects of all sizes and loves working on the vintage homes just as much as the new contemporary ones. Working in Laguna, Newport Beach, Newport Coast, Corona Del Mar, and on the Balboa Peninsula has kept me busy all these years with many different kinds of projects. Call me if you are ready to build your dream home.