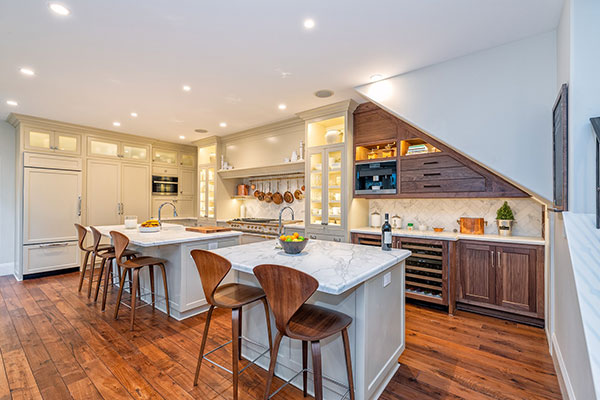 When I receive calls from homeowners about remodels in Laguna Beach, Newport Beach and on the Balboa Peninsula, it typically starts with the kitchen and it expands from there. Since the kitchen is the most used room in a home and contains a lot of appliances, it's the space that needs the most updating. As the family grows and their needs change, the kitchen is one of the first rooms that need to be renovated.
The kitchen is the most important room in the house because it is the place you spend the most time gathering with family and friends. Ultimately, it's the room where everybody hangs out while you are preparing a meal. I began my career in residential home construction in Sothern California as a Certified Kitchen and Bath Designer and added my contractor's license so I could run the job seamlessly from conception to completion for my clients.
You have to take everything that is happening in that space and being stored there into consideration when designing a custom kitchen. Without doing all of this upfront, you won't have proper storage for all of your belongings. My process involves a complete analysis of the home and the homeowners needs. The architecture, interior design, space planning, exterior design and custom kitchen design all must be considered to make the remodel work. It is a complete review of every aspect of the home and how the client lives in it.
The kitchen is probably the most detailed room because of all of the different items that are stored there. I personally like to use every square inch of the space. This involves getting all of the spec sheets for the appliances and plumbing fixtures and measuring all of the existing equipment and serving wear. This inventory is crucial in order to customize the kitchen to the client's needs and lifestyle.
Every part of your home should be custom designed to fit you and your lifestyle. Please call me to discuss your dream home.