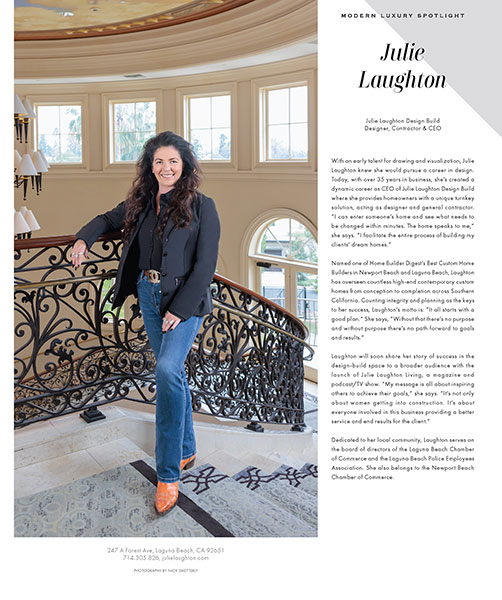 Being a Power Player in the June 2023 issue of Riviera Magazine is an honor. It was a pleasure to be recognized as a Power Player and it also gave me a great opportunity to show that a female can succeed in the male-dominated construction industry.
Every time a woman who shares the same interest in design as me admits that they have always wanted to become a contractor. A lot of women would like to do what I'm doing. I validate the fact that it can be done. The future of my business involves telling my story nationally so others can follow in my footsteps.
I started my career in New York City working for the top 5 developers in Manhattan on projects such as Windsor Court, Astor Terrace, Bank of America's 5th Avenue Corporate Offices, David Webb Jewelry on Park Avenue and the Friars Club. I relocated to Southern California and started my own business in residential custom home design. I became a licensed general contractor providing a seamless one-stop shop for homeowners. I am a designer and contractor who champions each and every project from conception to completion on behalf of my clients best interests
A Power Player is someone who makes a difference, makes things better and gets things done. They are in the forefront of their industry and are a good leader. I am known as an expert in my field and an authority figure to all the people that count on me every day for leadership and guidance. Success is about giving back. I belong to the Laguna Beach Chamber and the Newport Beach Chamber. I am also on the Board of Directors for the Laguna Beach Chamber and the Laguna Beach Police Employees Association.
Click below to read about me as a Power Player in Riviera Magazine. I am proud to celebrate over thirty-five years in business and the launching of my new national brand called Julie Laughton Living.